Tuesday, October 8, 2019 4:05 PM
Great time at Alpharetta Elementary School this morning with pre-K classes reading "llama llama red pajama".
Got to display my "Papa Chuck" Superpower -- I can read upside down so my pre-K friends get to see the pictures at the same time I'm reading the book.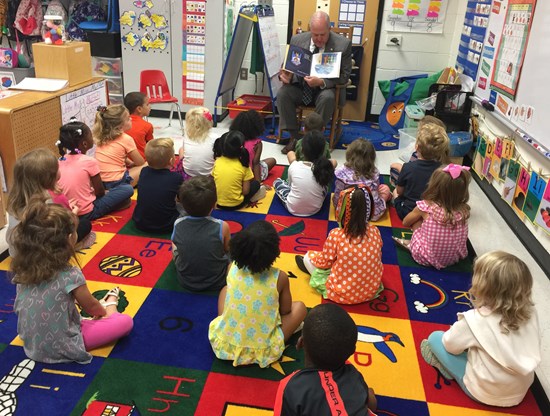 They are really awesome students, knew the words, had great questions and are excited about dressing up as their favorite characters for Halloween.
Thanks Ms. Kane for inviting me and thanks to everyone at Alpharetta Elementary for all you do for our students at all levels!
---
Tuesday, May 14, 2019 9:17 AM
Thanks to Rep. Matthew Gambill and Rep. Mitchell Scoggins for co-sponsoring HB 349, to make modifications to the redevelopment powers act that will further enable cities, counties and boards of education to work together to provide opportunities for citizens to thrive and the economy to grow.
Thanks to Sen. Bruce Thompson for sponsoring the measure in the State Senate and to Governor Brian Kemp for signing it!
Text MARTIN4GA to 22828 to receive our updates.
---
Tuesday, May 14, 2019 9:06 AM
HOPE Eligible Students Get the Time They Need to Complete Degree
As Chairman of House Higher Education was glad to stand with Governor Kemp at Wheeler High School last Friday as he signed a number of bills increasing educational opportunities for Georgians, including HB 218, sponsored by Rep. Rick Williams.
HB 218 first passed out of the House Higher Education Committee and expands the time students are eligible to receive the HOPE Scholarship from 7 to 10 years so more deserving students can complete their degrees, even when life injects a detour.
HB 218 is good for students, good for Georgians, good for Georgia! Way to go Rep. Rick Williams!
---
Wednesday, October 31, 2018 6:50 AM
Working together with Fulton County School Board and gaining the Board's unanimous support our North Fulton Republican Legislative Team passed an assessment freeze which will appear on the General election ballot -- vote "YES" to set you assessment at the lowest amount of the past three years and avoid the increase in future years.
---
Tuesday, October 23, 2018 7:27 AM
---
Friday, October 19, 2018 7:28 AM
---
Thursday, October 18, 2018 5:20 PM
Chairman Chuck Martin is Endorsed by Educators First
---
Tuesday, October 16, 2018 12:54 PM
---
Wednesday, October 10, 2018 8:11 AM
Super fun and an honor to read with the Pre-K students last week during 2018 Pre-K Week!
Such great examples of energy and positivity!
Click link above to see learn more about Georgia Pre-K and Voices of Georgia's Children.
---
Friday, June 8, 2018 9:20 AM
Property owners in Fulton County should have received your 2018 Annual Notice of Assessment by now. Like many of you, I was quite surprised, even shocked, by the enormous jump in my property value.

To save our homeowners from these increases, earlier this year during Legislative Session, we passed bills that will provide solutions, those solutions require a vote in November and by law cannot apply to this year's taxes.
More on those solutions later – first to provide information to understand and appeal 2018 Assessment Notices.
Click the link at the top of this article or click here to go to a larger article on the Fulton County Assessor Resource pages.
To go directly to Online Appeal, click here.
---
Monday, May 21, 2018 12:00 AM
While we will get to vote longer term homestead exemptions this November this article provides a background and basic information on appealing your 2018 property taxes -- please check back as detailed steps to appeal are on the way.
---
Tuesday, May 15, 2018 4:00 PM
The Georgia Primary Election is Tuesday, May 22, 2018; this includes the Special Election for Alpharetta Mayor and two City Council Posts.
Early voting ends Friday May 18th; please don't miss your chance to vote.
I would be honored to have your support and ask for your vote, early or on election day!
---
Tuesday, May 8, 2018 6:51 PM
Tax Savings on the Way to the November Ballot!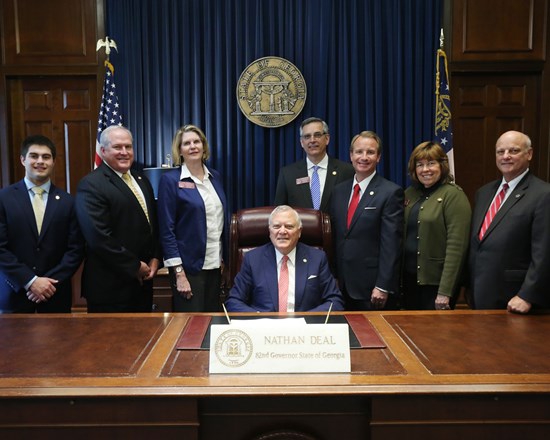 Today Governor Deal signed HB 707, HB 708, HB 709, HB 711, HB 712, and SB 317.
---
Wednesday, March 14, 2018 12:00 AM
Senator John Albers (from right), R - Roswell, Rep. Chuck Martin, R - Alpharetta, House Speaker Pro-Tempore Jan Jones, R - Milton, and Senator Fran Millar, R - Atlanta, at a press conference Tuesday on the final passage of legislation addressing Fulton County tax exemptions. A number of homestead exemptions that passed for North Fulton and the schools will let people improve their homes without losing the lower assessed value.
---
Tuesday, March 13, 2018 12:00 AM
"A priority of mine is protecting taxpaying constituents and
creating and passing these measures protect my constituents from unpredictable and unaffordable property tax bills due to reassessments. Work had been ongoing since last summer and I was pleased and relieved when the bills passed and were sent to the Governor for signature," said Representative Chuck Martin.

---
Monday, January 8, 2018 10:00 AM
Greetings From Your State Capitol


Monday, January 8th, marked the beginning of the 2018 Legislative Session in Atlanta.

Representing House District 49 is a privilege, one I don't take lightly, and I thank you for the
---
Sunday, October 2, 2016 12:00 AM
"Always enjoy reading with Pre-K, thanks for letting me share Pete the Cat. Can't say enough about these teachers and outstanding Pre-Kers." – Chuck