---
Governor Kemp presents budget priorities.
---
Latest Legislative Update
Click here to access the Georgia House Meetings' Calendar.
---
Out of Control Property Tax Assessments
The Fulton County Tax Assessor's Office previous failures led to
absolute "sticker shock" in 2017. In the 2018 Legislative Session I wrote and worked with the entire Fulton County Delegation to pass homestead exemption legislation so you can vote in November 2018 to protect against this out of control process.
Your home is more than an asset, it is where your family lives and thrives; I'll protect homeowners!
---
I grew up in Alpharetta; Johnna and I raised our sons here and
the only thing we love more than our area is our family. We may vacation by the ocean from time to time but Alpharetta is home.
I will always work for you to protect our families, our neighborhoods, our city, and our state!
---
Education is the cornerstone of our society. Johnna and I are products of local public schools, Cherokee and Fulton County, respectively. Our sons are also graduates of Milton High School and the University of Georgia – that was our decision and it worked for us. I believe parents are in position to choose the best for their children and I support them in their choice.
Georgia made excellent progress again this year by fully funding the QBE formula for our public schools for the first time in over 15 years wphile also allowing parents more choices for student success.
I will always support providing resources so our children are getting the best possible education possible.
---
Jobs & Economy
The American economy is rebounding after a difficult recession. Georgia continues to be listed at the top as the best or one of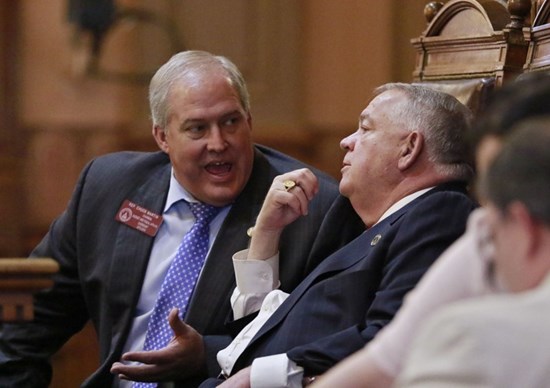 the best to do business. Click here for more information about Georgia opportunities...
I will always work to allow Georgians to have more opportunities to succeed!
---
Please Use Links Below for our Legislative Updates
The Capitol Express

The Capitol Express - March 30, 2019
The Capitol Express - March 23, 2019
The Capitol Express - March 16, 2019
The Capitol Express - March 9, 2019
The Capitol Express - March 2, 2019
The Capitol Express - February 23, 2019
The Capitol Express February 16, 2019
Prior update are available by clicking here.
To received The Capitol Express by email directly, text MARTIN4GA to 22828 and follow the instructions or add your address in the column on the right of this page.